Switch plates are a necessary element in every home, but they are often overlooked when it comes to interior design. However, with so many styles and options available, choosing the right light switch plate covers can be overwhelming to match the functional need and the aesthetic of the room. These are amazing home decor elements that not only serve a functional purpose but also add a finishing touch to the room's decor.
With the right decorative switch plate covers, you can elevate the look and feel of the room, creating a cohesive design that complements the overall style of your home. In this blog, we'll explore how to choose the right switch plates for your home decor style.
Determine Your Home Decor Style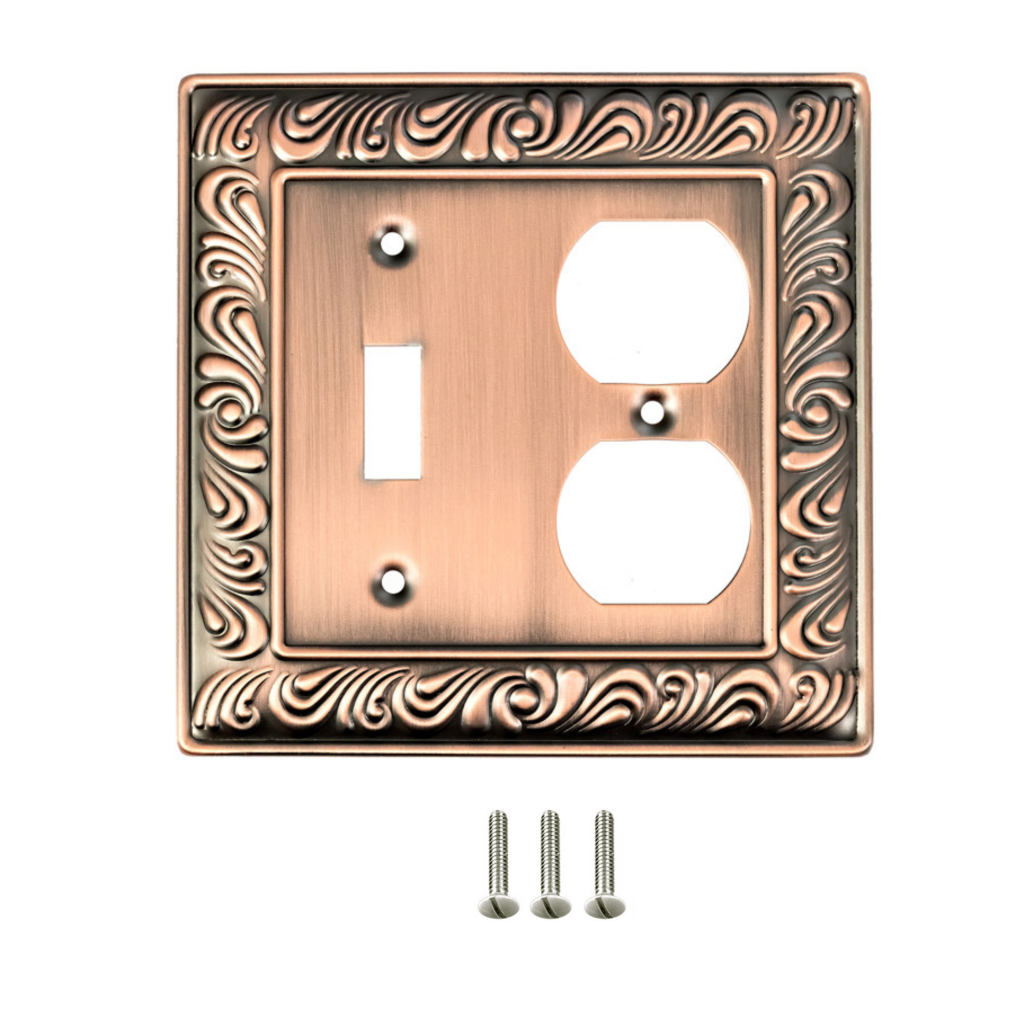 The first step in choosing the right switch plates is to determine your home decor style. Are you going for a minimalist, modern look or a more rustic farmhouse vibe?
Knowing your style will help narrow down the options and ensure that the switch plates complement the overall aesthetic of the room. If you have rustic wall paint or wallpaper, then you might go for the antique brass wall plates.
In many cases, if you have a more contemporary look to your space with clean lines and a minimalist feel, then you may want to choose switch plates with a sleek and modern design.
Black light switch covers or satin-finished plates could be the perfect examples of high-end finished decorative outlet covers.
Consider the Finish
Switch plates come in a variety of finishes, such as sponged copper wall plate, polished chrome, or decorative oil-rubbed bronze finish. Consider the finishes of other elements in the room, such as doorknobs, light fixtures, and faucets, and choose a switch plate finish that matches or complements them.
Suppose you want to set a style for your corporate office or a more formal venue, then you may want to add a classic and timeless touch that exudes professionalism and sophistication.
Go for Satin nickel wall plates or stainless steel switch plates to add that extra edge of soberness to your office or a more formal setup.
Choose the Right Size and Configuration
Decorative switch plate covers come in different sizes and configurations to accommodate different types of switches and outlets. Be sure to choose the right size and configuration to ensure a proper fit and a seamless look.
Switch plates come in a variety of functionalities, such as toggle switch plates, rocker switch plates, single, double, or triple duplexes, decora switch wall plates, black plates, and even many more.
Choose the right-sized switch plate covers that seamlessly match your preferences and also provide the best functionality you need.
Look for Unique Details
Switch plates don't have to be boring! Look for unique details such as intricate patterns, textured finishes, or decorative accents that add visual interest to the room. You can go for gold light switch covers, crystal Switch Plates, or even metal embossed and faux leather wall plates to add a touch of exuberance and flamboyance to your room.
There are many switch plates that are designed to add a touch of luxury and grandeur to any room. These decorative switch plate covers come in a variety of designs, such as simple diamond patterns or more elaborate floral designs, to make a room look brighter and more spacious.
Be creative with textured-finished decorative wall plates for outlets that give your space the visually appealing touch you are looking for!
Don't Be Afraid to Mix and Match
Mixing and matching switch plates can add depth and dimension to a room. Consider choosing different styles or finishes for different areas of the room, such as a different finish for the bathroom or a different style for the kitchen. For instance, you can use copper switch plates for the kitchen where such as wood or glass switch plates for the lounge space.
It is important that you mix and match different styles and materials of the switch wall plates so that you can create a unique and cohesive look throughout your space. With a little creativity, you can create a stunning and personalized look that reflects your individual style and taste.
Try out mixing and matching with different styles and finishes, such as glass switch plates for restro bars and ceramic switch plates for hospitals and medical centers.
Consider Safety and Functionality
While aesthetics are important, it's also essential to consider safety and functionality when choosing electric switch wall plates. Switch plates should be made of durable and non-conductive materials, such as plastic or metal, to reduce the risk of electrical shock.
They should also be designed to fit securely around the electrical box and not have any exposed wires or gaps that could cause accidental contact.
Choose safety first with decorative switch plate covers that have the right configuration to ensure proper functionality for your room.
Consider the Color Scheme
Choose switch plates that match or complement the color scheme of the room. For example, if the room has a warm color scheme, choose switch plates with warm finishes like a brushed satin pewter wall plate or a copper plate.
On the other hand, if it is a child's room that comes with fun designs and bright colors, then it is necessary to avoid wall plates that have a more subtle effect and come with a subdued look.
Choose switch plate covers like glow-in-the-dark or more personalized switch plates to match the vibrant room decor effectively.
The Takeaway
Choosing the right decorative switch plate covers is an easy and effective way to enhance the overall aesthetic of a room. By following these tips and considering your home decor style, finish, size and configuration, unique details, and safety and functionality, you can find the perfect switch plates to complement your home's interior design.